Bloomfield Hills MI's Leading Commercial Renovation Services
A Professional You Can Count On: How to Select the Best Commercial Contractor
In any endeavor with your home or business, it's essential that you work with people you can trust. This is particularly critical with building restorations and renovations. That's because the quality of your contractor's work affects your health, safety, and financial well-being. Kapi Restoration Company offers restoration services of the highest quality, but don't take our word for it. This guide helps you find the best restoration service in the industry, and we're confident that we'll be at the top.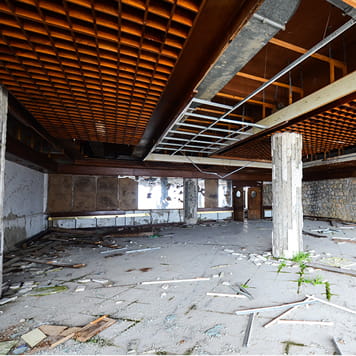 How to Choose the Right Commercial Contractor
The first step to choosing the right contractor is to find a business that focuses specifically on restoration and renovation services. Reconstructing a home or office requires a different set of skills than building one. New construction contractors also tend to have less experience working with insurance, leading to payment headaches. This means that even if the builder offers restoration services, select a specialized restoration contractor instead.
Besides narrowing your search to companies that focus on damage restoration, make sure you're not considering cleaning contractors. While these companies may market themselves as restoration services, they can only deal with surface-level issues. They don't have the skills or resources to rebuild compromised structures or to remove water and soot that's lodged in your ceilings, walls, and furnishings. Only a true restoration company will be able to completely clean your building and eliminate future threats to your health and well-being.
Questions to Ask Your Commercial Contractor & Fit-Out Builder
Once you've narrowed the search to include only true restoration companies, you need to select the one that will offer you quality service at a fair price. By asking the following questions, you can weed out subpar companies and find one that meets your specific needs:
"How Much Experience Do You Have?" - The more experienced a commercial contractor is, the better a job they'll be able to do. This doesn't mean you should never work with a new company but it does mean you should make sure that company's team has a history of performing home and office restorations.
"Can I See Your License & Insurance Certificate?" - Make sure your contractor is fully covered by both liability and worker's comp insurance, and that they have a valid license. If the contractor refuses to show you these credentials, they are hiding something. Find someone who is transparent, licensed, and insured.
"How Long Will This Take?" - Stick to contractors who give you specific, reasonable completion estimates. Not only does this make it easier for you to plan around their services, but it also shows that the company has a keen understanding of their work.
"How Do I Pay for This?" - Ask what types of payment they accept, what schedule they want those payments to arrive on, and how they'll deal with additional charges.
"Do You Handle Permitting?" - If your restoration or renovation services require permitting, your contractor should have the skills and willingness to get this themselves.
"How Do You Resolve Disagreements?" - Choose a contractor that has a fair, systematic way of resolving disputes with customers.
Our Commercial Services Can Also Include:
Fire damage
Water damage
Ice damage
Storm damage
Our Residential Services Can Also Include:
Fire damage
Ice damage
Sewage Backup
Water Damage
Storm Damage
Custom Building
You Can Count On Our Experts To Complete The Following:
Thermal Fogging
Deodorization
Debris
Decontamination of HVAC Systems
Indoor Air Quality Control
Ozone Treatment
Treatment & Removal of Smoke, Soot, & Odor
Why Should You Choose Our Commercial Renovation Specialists?
Our specialists have extensive knowledge and the proper equipment to get your property back to it's perfect condition. On staff, we have skilled:
Fire & Smoke Restoration Specialists
Odor Control Technicians
Fabric Cleaning Technicians
Assessment of damage
Board-up and roof tarp service (if applicable)
Water removal and drying (if damage is present)
Removal of smoke, smog, and soot from all surfaces
Cleaning & repairs
Restoration services
From our extensive qualifications to our more than ten years of experience to our commitment to transparency, Kapi Restoration Company upholds the highest standards of restoration services. For more information, contact us today!