Berkley MI's Top Water Damage Restoration Services
Damage Detection: Spotting the Signs of Water, Fire, Smoke, & Storm Issues
Protecting your home or office is all about vigilance. By watching out for signs of smoke, fire, water, and storm damage, you let us take action as soon as there is a problem.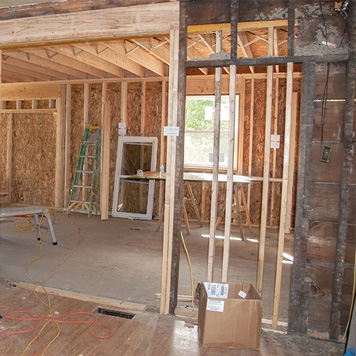 The Most Common Signs of Home Damage
Smoke, storms, fire, and water each affect your building in distinct ways, many of which are hard to detect until the problem has gotten out of hand. For this reason, you need to be on the lookout for each of these issues:
Water Damage - Whether it comes from a broken pipe or a gap in the insulation, water often discolors and warps your building's interior. Given that water damage tends to compound itself as mold spreads, it's essential for you to restore your building as soon as you notice these signs. The Kapi team has extensive experience with water damage restoration.
Fire Damage - The most obvious sign of fire damage is soot and stains, which will show up virtually everywhere that the fire spreads. But there are also subtler signs of this issue. Fire can weaken floorboards and other key parts of your building; only by checking each board can you make sure it's solid enough for safety. Also, the water used to put out the fire may get lodged in the insulation, making it less effective and increasing the risk of mold growth.
Smoke Damage - Shortly after the fire has been put out, you're likely to notice discolored areas of walls that were heavily exposed to smoke. With the help of Kapi's professional fire damage restoration team, you can eliminate these problems quickly and effectively.
Storm Damage - After every major storm, look at your roof for missing shingles, as well as shingles where the granules have become worn. You should also take a look at the gutter, which may have become clogged with debris or separated from the side of the building. Finally, areas around the chimney should be inspected, as this is one of the most common areas where roof leaks originate. It's essential that you call Kapi's professional restoration team as soon as you notice these problems. Don't leave your house or workplace vulnerable to moisture, wind, and debris.
Our Commercial Services Include:
Fire damage
Water damage
Ice damage
Storm damage
Our Residential Services Include:
Fire damage
Ice damage
Sewage Backup
Water Damage
Storm Damage
Custom Building
You Can Count On Our Experts To Complete The Following:
Thermal Fogging
Deodorization
Debris
Decontamination of HVAC Systems
Indoor Air Quality Control
Ozone Treatment
Treatment & Removal of Smoke, Soot, & Odor
Why Should You Choose Our Water Damage Restoration Specialists?
Our technicians have extensive knowledge and the proper equipment to get your property back to it's perfect condition. On staff, we have skilled:
Fire & Smoke Restoration Specialists
Odor Control Technicians
Fabric Cleaning Specialists
The Water Damage Restoration Process
Inspection of damage
Board-up and roof tarp service (if applicable)
Water removal and drying (if damage is present)
Removal of smoke, smog, and soot from all surfaces
Cleaning & repairs
Restoration services
Our emergency response team is ready to assist with for your Water Damage Restoration needs, so do not hesitate to contact us!